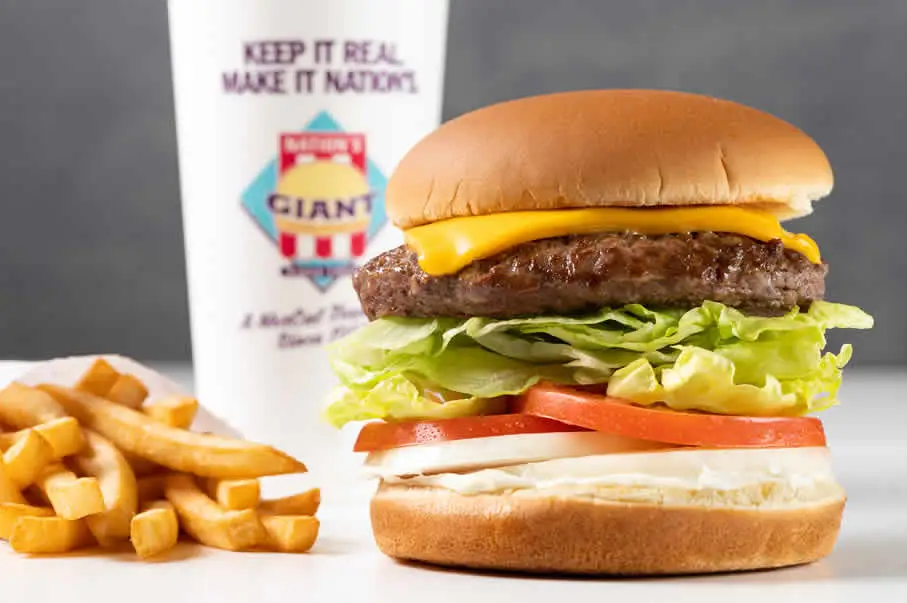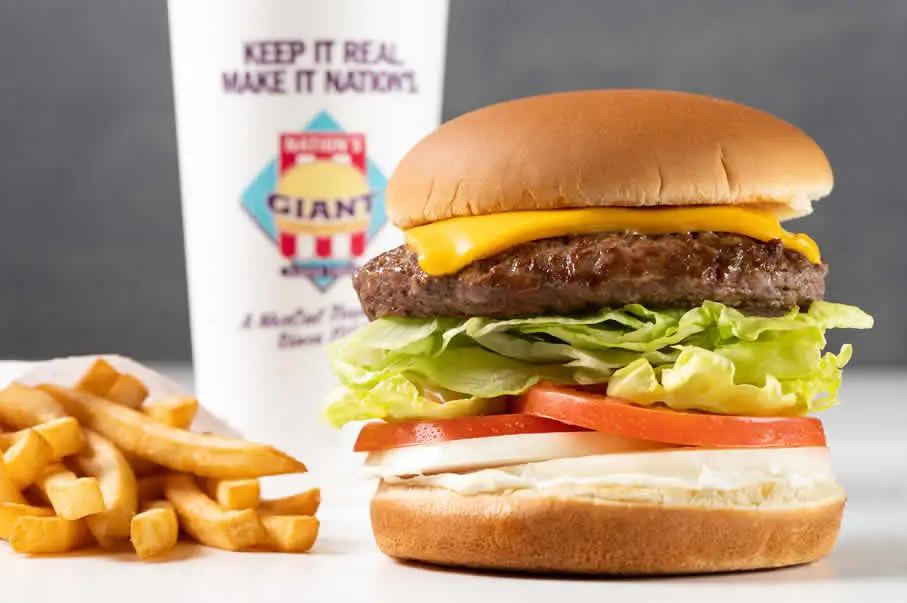 The hamburger. It doesn't go out of style for the simple reason that it's one of America's most beloved foods
Why? It's incredibly versatile. Classic or trendy, with cheese or without, the burger caters to nearly every taste, every age, and every walk of life.
Which is why the ever-popular hamburger franchise will always be one of the wisest investments a savvy entrepreneur can make.
But what makes a Nation's Giant Hamburgers franchise one of the best hamburger franchise opportunities there is, even in a market saturated with burger chains? We'll give you three unbeatable reasons.
A Nation's Giant Hamburgers Franchise Boasts the Freshest Ingredients
Despite initially opening a restaurant that served hot dogs in 1952, Russ Harvey couldn't stop thinking about giant hamburgers. Whenever he traveled, he craved a specific type of burger—a juicy, extra-large patty with thick slices of tomato and onion topped by crisp lettuce, cheese optional.
Once Harvey added his ideal hamburger to his menu and changed his restaurant name to Harvey's Original Giant Hamburger, the 6 stools at his serving counter were always full, and there was a line out the door.
The key has always been, and will always be the freshness of our ingredients. Since 1952, our lettuce, tomatoes, and onions have been delivered every night, fresh from local farmers. Our meat is from local butchers who build our ⅓ lb hamburger patties to specifications set by our proprietary recipe that has worked for Nation's Giant Hamburgers for 70 years. These patties are delivered three times a week to ensure peak freshness.
Pies have been on the menu from the beginning, and they have also been baked fresh every day. A new distribution center and HQ built in 1984 centralized the bakery for our California locations, enabling us to control the freshness and quality of the more than 800 pies we bake daily.
As franchising grows, strategic plans are already in place for more distribution centers, so we may continue to honor the consistency and freshness for which Nation's Giant Hamburger is known.
Nation's Giant Hamburgers Franchises is Classic Diner Fare Done Right
While our menu has evolved for modern dietary preferences and exciting flavor profiles, timeless classics continue to be the centerpiece of every Nation's Giant Hamburgers franchise.
In fact, our best year to-date was 2021, during a time when so many other restaurants were struggling in a post-COVID era. Why?
In large part because of the foods we serve. People wanted better quality food than what was available through a typical drive-thru with a standard franchise hamburger chain, so they turned to Nation's Giant Hamburger.
Alongside our giant hamburgers and cheeseburgers, diners can also order:
8-inch hot dogs, chili dogs, or chili cheese dogs
Classic sandwiches like grilled cheese or BLT
Hearty all-day breakfast combos, including omelets, pancakes, french toast, and a la carte choices
Classic shakes and sundaes
Pies, served by the slice or available whole
Speaking of pie, it doesn't get more classic than that. Pie revenues for Nation's Giant Hamburgers franchises account for around 25% of each location's sales. This is above the base revenue achieved by the classic diner menu available daily. The holidays are a huge time of year for pie sales.
Another revenue stream that makes Nation's Giant Hamburgers a crowd favorite is our night-owl hours. Many of our best sales hours happen when the bar-crawl crowd is out satisfying one last craving after a night out.
Nation's Giant Hamburgers Franchises Have No Direct Competitors
It's true. There may be an independent competitor or two out there, but we have yet to find another restaurant quite like the Nation's Giant Hamburgers franchise.
We've been serving fresh, giant hamburgers for 70 fruitful years, and we know we have a unique concept. There are aspects of our hamburger franchise model that match with other competitors. Our burgers resemble those of the Five Guys gourmet burger franchise chain. Our pies have been compared to Marie Callender's.
But in a head-to-head comparison, there is no other hamburger franchise that matches the Nation's Giant Hamburgers concept in its entirety.
Our position in the restaurant franchise market is unique, which makes this the perfect time for interested entrepreneurs to get in on the investment of a lifetime.
The Nation's Giant Hamburgers Franchise Opportunity
Becoming a Nation's Giant Hamburgers franchise owner right now is the chance to join a thriving brand at the perfect time.
We're a brand with a 70-year-long established history. Our current 28 stores in the tough California market have not only flourished, but we've also just had our best years after one of the toughest tests the restaurant industry has ever faced. It's why we've decided to franchise now.
Our stores require a small footprint—only 1,500 to 1,800 square feet—so the process from franchise award to grand opening is relatively straightforward and fast paced.
Interested investors can expect an investment range between $600,000 and $1,000,000, which includes a $40,000 franchise fee.
If this sounds like the opportunity of a lifetime, that's because it is—a fresh concept in the hamburger franchise space, with a company that's got a thriving 70-year track record and no direct competitors. That's incredible! If you think so too, we'd love to hear from you about starting the journey to owning your own Nation's Giant Hamburger!
Contact us today to learn more and download our industry outlook for more details!